Wabash Valley Wine & Art Festival 2022
Welcome to the Wabash Valley Wine & Art Festival website!
We look forward to seeing you in Palestine, Illinois
Festival is free, but you need to purchase a glass/wristband to sample wine.
Oct. 1, 2022 from 11:30 am - 6:30 pm & Oct. 2, 2022 from noon - 5pm.
Wow! Thank you to everyone who attended The 2022 Festival.
You made the event a Huge success!
We hope to see in 2023 for our 20th Annual Event!
The Festival is held the first Saturday and Sunday in October each year and brings together wineries and artists from throughout the region.  Browse our retail establishments.  Eat at the various restaurants.  Listen to music up and down Main St.  The 2022 Festival featured 15 Illinois wineries and hundreds of different wines.  Area artisans will have handcrafted goods.   Live music!  Food vendors! Car show on Sunday.  Plans are being made for the 2023 Festival! It will be our 20th Annual Event! 
Purchase your Tasting Glass
at the event
Don't just take our word for it
See our Gallery
"It was great! I was happy as a clam once I got my wine glass holder lanyard. The wine was good. The food was good and a better selection than last year. I'll be back next year."
" This is a superb event in historic Palestine, IL. Visitors can sample wines from several Wabash Valley wineries and enjoy arts and crafts from our internationally acclaimed artists and others. Come enjoy the hospitality of Illinois' oldest town.
Like the Wabash Valley Wine & Art Fest and ask your friends, too!"
"Will have to get me a glass holder for next time.  Great selections, great Reps! Bought a couple great tasting wines, one from Alto Vineyards and one from Vahling Vineyards."
" Great festival well worth the short drive to get there. Seems much more organized than the local festival at Rend Lake."
We have many wineries at our event each year. Below is a sample, for more listings check our wineries page
Enjoy a glass of wine as you stroll among the shops and art/craft booths.
If you would like to join us as a vendor. Please select Vendor Application and complete our form. 
Looking for Accommodations?
We have a list of great places to stay in the local areas. Feel free to contact them to make your arrangements!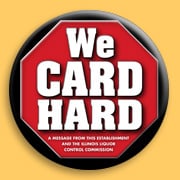 All wine tasting participants MUST BE 21 years old.
Photo ID required when picking up glasses.
PICKUP/PURCHASE LOCATION: Fife Opera House 123 S. Main St. Palestine, IL 
ONLY authorized service animals allowed in festival area.  
Enjoy a glass of wine and some live music at our event